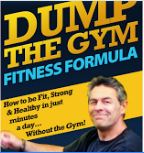 Dump The Gym Fitness Formula
DOWNLOAD THE COMPLETE DUMP THE GYM FITNESS FORMULA eBook FOR YOUR FITNESS FOR LIFE!
This Life-Changing Program has been Proven over a Decade of Time
No More Workouts!
How I turned the tables on how to get fit, lean and strong without boring long visits to the gym, weights or even routines at home!
How to Integrate Fitness with Life
Your beginning to a life-changing experience!
The Proven Formula
The unique formula proven to get you stronger, fitter and leaner in minutes a day.